Harvard's longtime chaplain, Reverend Peter J. Gomes, has died of a brain aneurysm and heart attack at 68, the Harvard Crimson reports.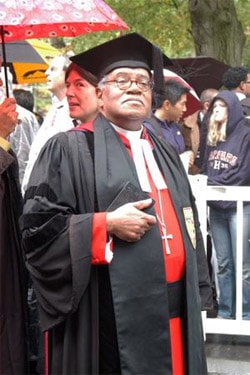 "His death was announced in an e-mail to members of the Harvard-Radcliffe Christian Fellowship and confirmed by a staff member at the Harvard University Choir. Gomes was hospitalized at Massachusetts General Hospital this past December after suffering a stroke. He was later moved to Spaulding Rehabilitation Hospital in Boston. Friends reported as recently as this January that Gomes was recovering and in good condition. They said that he hoped to return to Harvard and deliver the Easter sermon at Memorial Church."
Gomes was a religion professor at Harvard for decades before coming out 20 years ago.
Then in 1991, he appeared before an angry crowd of students, faculty members and administrators protesting homophobic articles in a conservative campus magazine whose distribution had led to a spate of harassment and slurs against gay men and lesbians on campus. Mr. Gomes, putting his reputation and career on the line, announced that he was "a Christian who happens as well to be gay."
When the cheers faded, there were expressions of surprise from the Establishment, and a few calls for his resignation, which were ignored. The announcement changed little in Mr. Gomes's private life; he had never married and said he was celibate by choice. But it was a major turning point for him professionally.
"I now have an unambiguous vocation — a mission — to address the religious causes and roots of homophobia," he told The Washington Post months later. "I will devote the rest of my life to addressing the 'religious case' against gays."
I had the fortunate opportunity to meet Gomes a few times over the past 15 years. His loss will be deeply felt at Harvard and beyond.
Rev. Peter J. Gomes, Harvard Minister, Dies at 68 [nyt]
(image harvard crimson)