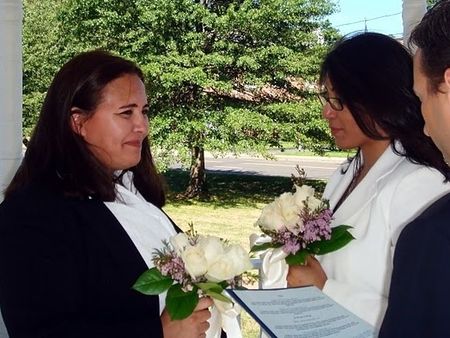 On Tuesday, using the President Obama's recent decision to no loner defend the constitutionality of DOMA as their main argument, Monica Alcota and her wife, Cristina Ojeda, will stand in front of an immigration judge in New York and request that deportation charges against Alcota be dropped and she be issued a green card. The group Stop The Deportations has issued the following announcement about the case:
"This is the first time a married same-sex couple will appear in court to seek termination of such proceedings since the Obama administration reversed its position on Section 3 of the Defense of Marriage Act (DOMA) on February 23, calling it unconstitutional and announcing that it would not defend DOMA in pending and future federal court challenges."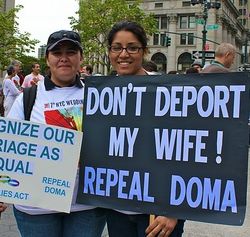 "Cristina Ojeda and Monica Alcota have been together since July 2008 and live in Queens, New York. In August 2010 they married in Connecticut. Cristina filed a marriage-based alien relative petition on behalf of Monica in September 2010. That petition is currently pending before U.S. Citizenship and Immigration Services.  Alcota came to the United States in October 2000. She is a law-abiding, hard-working and talented antiques restorer and devoted, loving wife to Cristina."
"The couple's lawyer, Lavi Soloway, will argue that removal proceedings should be terminated consistent with the Immigration and Customs Enforcement's long-standing policy of prosecutorial discretion which favors family unification and the accommodation of sympathetic humanitarian circumstances. ICE and the Court should consider the rapidly changing landscape of DOMA. That changing landscape includes the Obama administration's new position on DOMA which is expected to dramatically alter the course of future litigation against DOMA, but it also includes other significant developments."
Ojeda defends her wife on the Stop The Deportations website: "Monica left Argentina because of homophobia and intolerance that forced her to flee in fear of her personal safety. More than 10 years later, she is again in a fight for her life and her love. As an American I believe my government should recognize our marriage and give Monica a green card. Too many couples have suffered like us for too long. The deportations and separations have to end."