Following lengthy debate late last week, Maryland's House Judiciary Committee is expected to vote on the marriage equality bill today.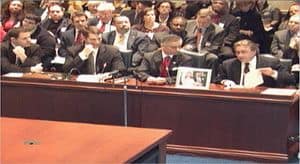 The panel is set to vote Tuesday on the bill, House Judiciary Chairman Joseph Vallario said. If the committee — where bill sponsors hold a one-seat majority — passes the measure, it could come up for a final vote in the House as early as Thursday, he said.
Gov. Martin O'Malley has said he would sign the bill if it reaches his desk. If approved, Maryland would become the sixth state to legalize gay marriage.
Supporters said Monday night that they were still working to secure the 71 votes needed for passage. 
Passage in the House is far from assured, as I reported over the weekend.
It is now more important than ever for Marylanders to call their lawmakers, urging them to vote yes on the marriage equality legislation now pending. Equality Maryland has information on how to do that HERE.