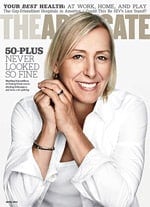 Matthew Breen, formerly the magazine's executive editor, has been named the new editor-in-chief of The Advocate, Here Media has announced: 
"We are thrilled to have Matthew take the reins of The Advocate and continue the journalistic excellence Jon Barrett brought to the brand. Matthew will bring his proven leadership to The Advocate's exceptional staff of reporters and editors, who consistently provide the most thought-provoking coverage of issues important to the gay and lesbian community. Matthew's dedication and creativity will expand The Advocate's long-standing tradition of superior news reporting."
Former editor Jon Barrett is leaving to be the new L.A. Bureau Chief at Entertainment Weekly, managing editor Jess Cagle told staff on Friday. Barrett starts at EW on April 4.