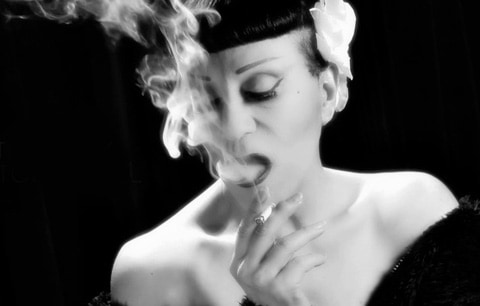 Don't miss your chance to meet NYC performance artist and icon Joey Arias and watch Arias' one-night-only performance from VIP seats at NYC's Town Hall on April 21, at 8 pm!
Enter to win at BIG GAY DEAL! Click HERE to enter!
Inspired by leagues of renowned singers who've appeared on The Town Hall stage over its vast history, New York's reining seductive songstress Joey Arias will make a debut at the famed venue with an unforgettable evening of music, humor and a little bit of scandal – just what audiences have come to expect from the unique experience of an Arias' performance.
Conceived and created by Arias and musical director Ben Allison, and performed with Allison's 4-piece band, the program will include Arias' inimitable interpretations of jazz standards, along with new renditions of tunes made famous by Bob Dylan, Diana Ross and Cream, among others.  The perfect follow-up to the sold-out run of Arias' recent critically lauded collaboration with puppeteer Basil Twist in Arias with a Twist, Joey Arias: Live at Town Hall! is a one-night-only event!
Artistic direction by Manfred Thierry Mugler. A portion of proceeds will go to Lifebeat.
A VIP Night with Joey Arias [BIG GAY DEAL]
Check out a beautiful promo for the show below, and if you want to buy tickets, at the box office, they're available here.
And if you still haven't entered for a chance to win tickets to Kathy Griffin's Broadway show, the offer ends at 4:30 pm ET today. Enter HERE.