Equality Maryland reports that Maryland's Gender Identity Discrimination Act has been approved by the House Health & Government Operations Committee on a 15-8 vote.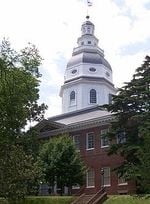 House Bill 235 would add gender identity to the state's anti-discrimination laws in the area of employment, housing, and credit.  The subcommittee approved a few non-substantive amendments which the lead sponsor, Equality Maryland, and the National Gay and Lesbian Task Force all found them to be relatively inconsequential. They committee also modified the definition of gender identity within the bill. This definition will provide protection both for a person's gender identity, as well as the way in which they express their gender in terms of presentation. 
Not all are happy with the bill. Transgender activist group Trans Maryland opposes the bill because a "public accomodations" provision was dropped.
Equality Maryland executive director Morgan Meneses-Sheets says excluding ''public accommodations'' on the bill was an effort taken by supporters of the bill to get it passed in this session.
Similar legislation, which included protections for transgender people with regard to Maryland public accommodations, has failed in the past.
According to MetroWeekly, "Currently, Baltimore City and Montgomery County provide protections against discrimination on the basis of gender identity with regard to housing, employment and public accommodation."