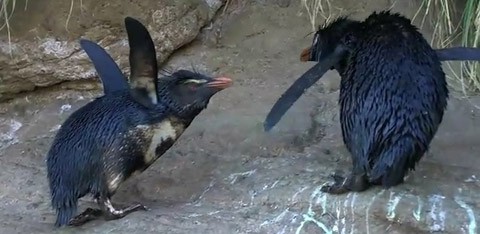 This is unbearably sad but should be brought to everyone's attention. The NYT:
Responders to a shipwreck and oil spill off a remote South Atlantic archipelago are in a "race against time" to save thousands of endangered penguins that have been coated in crude, local officials said Thursday.
Hundreds of oiled-soaked rockhopper penguins have been recovered from Nightingale Island, part of the Tristan da Cunha archipelago, where a large freighter ran aground last week, spilling roughly 1,600 tons of heavy fuel oil into the surrounding waters, Sean Burns, the islands' administrator, said in a statement.
Ships with food and supplies are racing from Cape Town to feed and clean the birds. Some reports say that up to 20,000 of the birds may ultimately be affected by the oil. Seals and other marine mammals have been hit by the spill as well.
Watch, AFTER THE JUMP…