A Minnesota judge has dismissed a lawsuit brought in May 2010 by three gay couples, Duane Gajewski and Doug Benson, Lindzi Campbell and Jesse Dykhuis, John Rittman and Tom Trisko, challenging the state's ban on same-sex marriage.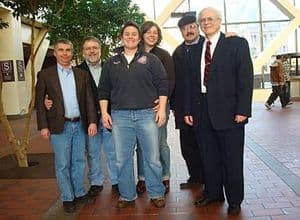 The Star-Tribune reports:
In an order signed Monday, District Judge Mary Dufresne rejected an argument by the group Marry Me Minnesota that the state's 13-year-old Defense of Marriage Act (DOMA) violates same-sex couples' rights to due process, equal protection, religious freedom and freedom of association.
"Unless and until" the state Supreme Court overrules a 1971 decision limiting marriage to a man or a woman or repeals DOMA, Dufresne wrote, "Same-sex marriage will not exist in this state."
The couples plan to appeal, according to Benson:
"We didn't know what the judges were going to do when we decided to pursue the lawsuit," Benson told the Minnesota Independent. "We are going to continue to head down the road."
The couples plan to appeal shortly, Benson said. He added that the decision amounted to a pass by the lower court which thinks the Minnesota Supreme Court will have to decide the case. The highest court had weighed in almost four decades ago in Baker v. Nelson, which ruled that the state could ban gay marriage. The plaintiffs are hoping that enough laws and attitudes have changed that the court would overturn that precedent.
Benson is the executive director of Marry Me Minnesota, a non-profit group founded by the plaintiffs.