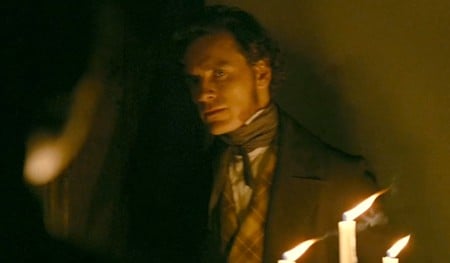 "Mr Rochester's visits are always unexpected."

NATHANIEL ROGERS
…would live in the movie theater but for the poor internet reception. He blogs daily at the Film Experience. Follow him on Twitter @nathanielr.
 
Happy St. Patrick's Day! 
You should totally celebrate by finding JANE EYRE this weekend and falling in love with Irish/German Michael Fassbender along with Jane and the rest of the world. While it's possibly true that the sudden collective Fassboner is more publicist command than organic development, it couldn't happen to a better actor. He's the real deal. (See also: Hunger, Fish Tank, Inglourious Basterds for an extraordinarily rangey, complicated star-is-born quadruple.) Fassbender was recently seen filming sex scenes in public [NSFW] for the sex-addiction drama SHAME as if to taunt (or reward?) his millions of new admirers. That future film, which co-stars Carey Mulligan, will reunite him with his Hunger director Steve McQueen. I can't recommend their first collaboration highly enough as their telling of the Irish hunger prison strike in Thatcher era Britain is visceral take-no-prisoners stuff in both direction and performance. Hunger is the kind of film you should only watch with all the lights off and your phone turned off and your hands from the remote control; distractions will ruin its hypnotic commitment.
Opening:
Bradley Cooper headlines LIMITLESS as a writer who makes a miraculous about face once he ingests a super drug, becoming his perfect self.
It's a neat parallel with Cooper's own backstory that he's been selling that his career took a while to take off because he "wasn't f**kable enough". Problem long since solved? MORE AFTER THE JUMP…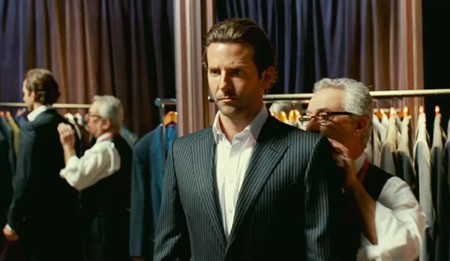 Whatever you make of Cooper's current humpability (Renée Zellweger makes quite a lot of it) we'll see how limitless he is at the box office up against earlier-to-fame incarnations of his prototype. Two other blonde cocky hunky things (Matthew McConaughey and Ryan Philllipe) are at war in the legal crime thriller THE LINCOLN LAWYER. It's an arrogant blonde sausage fest at the box office this weekend!
Other films opening: the alien comedy PAUL with Seth Rogen voicing the title character; the sports family drama WIN WIN with Paul Giamatti as a wrestling coach; and the girls boarding school drama CRACKS starring Eva Green.
BONUS SCENES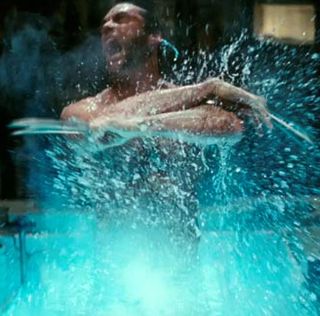 Oh speaking of Ryan Phillipe a moment ago, Pop Wrap has a fun interview with him including an amusing wrap up when Ryan talks about making peace with being a sex object.

The internet is in an uproar about the news that Darren Aronofsky has left The Wolverine, which was to be his reunion with his Fountain star Hugh Jackman, as well as a chance for Jackman to leave the character on a high note after the lame X-Men Origins: Wolverine since Aronofsky seems incapable of making a bad or at least uninteresting movie. The Black Swan Oscar-nominated auteur cites the extensive time away from home on location as his reason for dropping out but there has to be something else, don't you think? Meanwhile life as normal continues for Hugh Jackman. (i.e. workouts, sudden lickings.)

If you aren't done thinking about it yet, here's a sweet thoughtful piece on Glee's gay kiss earlier this week.

The gay romance flick Weekend won strong reviews and distribution at the SXSW film festival. It'll also be playing the Nashville Film Festival next month.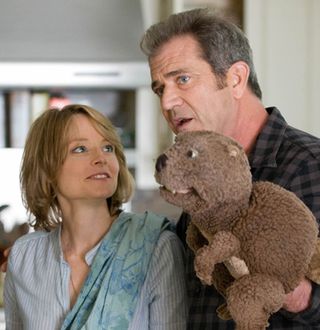 Believe it or not the Jodie Foster film about the man with The Beaver hand puppet is getting pretty strong reviews at the SXSW Festival. The puppeted man in question is Mel Gibson, who Jodie has always staunchly defended despite what people tend to say about that. The Beaver was shelved last year after Mel's big breakdown, one of them at any rate, but it will hit theaters this May. Jodie recently told IndieWire that she'll be directing more now.
I feel like if there was a time to slow down as an actor, it's now. A time to direct more, that's now.
A strange thing to say, Ms. Foster,. It's not like the acting has been… uh… speedy for her in the past ten years. Though we're very excited to see Roman Polanski challenge her in the stage to screen adaptation of the very strong play God of Carnage. As for other new Foster films, the long-gestating biopic about Leni Riefenstahl is definitely off the table now. Jodie has her limits.