The situation in Japan continues to deepen as explosions and fire have damaged the Fukushima nuclear reactor perhaps beyond recovery: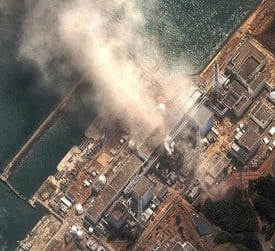 In a brief morning address to the nation Tokyo time, Prime Minister Naoto Kan pleaded for calm, but warned that radiation had already spread from the crippled reactors and there was "a very high risk" of further leakage.
The sudden turn of events, after an explosion Monday at one reactor and then an early-morning explosion Tuesday at yet another — the third in four days at the plant — already made the crisis at the Fukushima Daiichi Nuclear Power Station the worst nuclear accident since the Chernobyl reactor disaster a quarter century ago.
Most workers have abandoned the plant:
Engineers at the plant, working at tremendous personal risk, on Tuesday continued efforts to cool down the most heavily damaged unit, reactor No. 2, by pumping in seawater. According to government statements, most of the 800 workers at the plant had been withdrawn, leaving 50 or so workers in a desperate effort to keep the cores of three stricken reactors cooled with seawater pumped by firefighting equipment, while crews battled to put out the fire at the No. 4 reactor, which they claimed to have done just after noon on Tuesday.
RIA Novosti reports: "The Japanese Transport Ministry declared a no-fly zone within the range of 30 km from the blast-hit Fukushima 1 Nuclear Power Plant, the Kyodo news agency said on Tuesday. The ban does not include planes and helicopters involved in rescue efforts and delivering aid to quake-hit areas."
Some folks are evacuating Tokyo: "Panic swept Tokyo on Tuesday after a rise in radioactive levels around an earthquake-hit nuclear power plant north of the city, causing some to leave the capital or stock up on food and supplies. Embassies advised staff to leave affected areas, tourists cut short vacations and some multinational companies told staff to move from Tokyo out after low levels of radiation were detected in one of the world's biggest and most densely populated cities."
The aircraft carrier USS George Washington was docked for maintenance after detecting low levels of radioactivity.