Anthony Collao, an 18-year-old recent graduate who helped run his family's small ice cream business, was beaten and stomped to death at a brutal attack birthday party on Monday, the NY Daily News reports: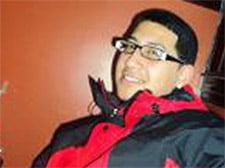 It's not clear why Collao was targeted. Friends said he had a girlfriend and was not gay – though the two men who threw the party are openly gay.
Four suspects – Alex Velez, 16, of the Bronx, and Nolis Ogando, Christopher Lozada and Luis Tabales, all 17 and from Queens – were arrested soon after the Saturday incident. Lozada was wearing the victim's Atlanta Braves baseball cap, and the others were covered in blood, sources said. They were arraigned Monday night on charges of manslaughter and assault in Queens Criminal Court and were each held on bail of $100,000 to $200,000.
They came uninvited to the Woodhaven party – advertised on Facebook – and refused to pay a $7 cover charge. They stormed the 90th St. home, busting windows and picking fights, witnesses said. The party was held in an abandoned home without electricity, lawyers for the suspects said. The crashers flashed gang signs, yelled anti-gay slurs and scrawled epithets in red marker on the walls, the two party hosts said.
"They called us homos and all kinds of stuff," said one of the men,who was celebrating his 20th birthday. Sensing trouble, Collao left with a friend and was chased, sources said. The gang caught him, pinned him against a car and "beat him to within an inch of his life," a source said.
Just awful.
Party crashers beat teen to death in Queens after yelling anti-gay slurs [nydn]