The NYT magazine takes a chummy look at leading anti-gay bigot Bob Vander Plaats: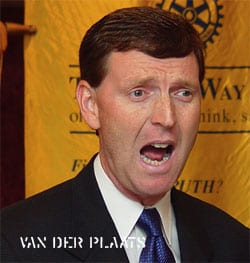 Vander Plaats is a 47-year-old former high-school principal who fails, once every four years, to win the governorship. But he is also Iowa's most prominent social conservative. He is the man who led Mike Huckabee through the state's Pizza Ranches in 2008, just before the chronically underfinanced candidate surprised the rest of the country by winning Iowa. He is the man who helped ride three state Supreme Court justices off the bench last year, after they decided in support of gay marriage. "He's already a gatekeeper," says David Yepsen, the legendary former political reporter for The Des Moines Register. "He's got a base and an organization."
That organization, The FAMiLY LEADER (they've consigned the "I" to lowercase to emphasize the individual's submission before God), involves a PAC, a nonprofit and, more recently, a Presidential Lecture Series that introduces potential presidential candidates to three audiences, in three Iowa cities, over the course of a day. Tim Pawlenty was the first lecturer this year, Ron Paul the second. Michele Bachmann and Rick Santorum are scheduled to speak as well.
In related news, on Thursday, Sioux City attorney Dan Moore, who works with the organization, "Fair Courts for Us," an organization against inserting politics into the judiciary, spoke out against Vander Plaats and his campaign to remove judges.
Watch Moore and Vander Plaats speak out, AFTER THE JUMP…
You may have missed…
Iowa Family Policy Center Forms Evil Anti-gay Umbrella Group [tr]
Marriage Equality Under Attack in Iowa; Bus Tour Targets Judges [tr]
Watch: The Infuriating Iowa Bigot nitwit Parade Marches On [tr]
Iowa GOP Wingnut Bob Vander Plaats Calls on Remaining Judges to Resign [tr]