A final vote on Maryland's marriage equality vote is set for the House of Delegates this morning and it's going to be very close. Debate begins at 11 am ET, the Baltimore Sun reports: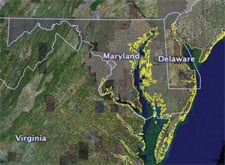 Supporters and opponents alike believe the 141-member House is nearly evenly divided. Del. Maggie McIntosh, the senior openly gay legislator, said this week that "a healthy handful" of delegates had yet to disclose their voting plans.
"History now rides on the hearts of several delegates," Sen. Jamie Raskin said Thursday night. The Montgomery County Democrat served as floor leader for the Senate debate. The bill, called the Civil Marriage Protection Act, passed that chamber last month on a 25-21 vote, and Democratic Gov. Martin O'Malley has promised to sign the bill if it reaches his desk.
Meanwhile, House Republicans — whose caucus took a position against the bill — have heralded the unexpected delays along the bill's road to passage as proof the votes are not there.
As noted last night, one delegate has offered a last-minute amendment which would strip specifics from protections offered religious groups.