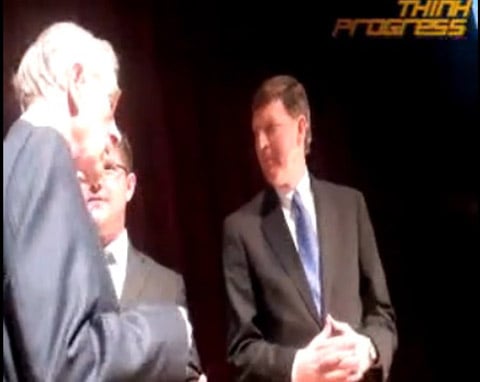 An aide to presidential hopeful Ron Paul appeared on stage to correct him at a "Presidential Symposium" sponsored by the state's leading anti-gay group The Family Leader, after Paul told the press that the Iowa Supreme Court has a Constitutional right to allow same-sex marriage and that "every state should have a right" to do the same.
The Family Leader and its leader Bob van Der Plaats, who looked on bewildered during the brief gaffe, led the campaign last November to oust three pro-equality judges for their marriage equality vote.
Paul quickly corrected himself: "I support the state of Iowa to get rid of the judges and to write laws dealing with marriage. Not the federal government. DOMA I believe was undermining that right so Iowa has the right to determine what they want in marriage."
Watch, AFTER THE JUMP…