Rep. Bob Barr, who authored the Defense of Marriage Act (DOMA), will be the keynote speaker at the Log Cabin Republican annual convention in Dallas on April 30, the group announced via press release.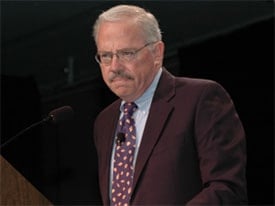 Said R. Clarke Cooper, Log Cabin Republicans Executive Director: 
"Congressman Barr is living proof that Republicans are becoming more inclusive, and doing so for conservative reasons. As a freshman member of Congress in 1996, Barr wrote DOMA. He has since come to the conclusion that 'DOMA's language reflects one-way federalism' and that the law 'has become a de facto club used to limit, if not thwart, the ability of a state to choose to recognize same-sex unions,' contrary to the traditional Republican respect for states' rights, and that DOMA should be repealed. Barr's principled stand shows what a real evolution on marriage looks like today, and Log Cabin Republicans look forward to hearing from him on this timely issue in Dallas. As evidenced by the last election, in which gay and lesbian support for Republicans nearly doubled and independent voters helped sweep a GOP majority into office, inclusion can and does win. Log Cabin will continue to work to expand the base of the Republican Party, all the while gaining new allies in the fight for freedom."