Ricky Martin and Jennifer Hudson care less about Target's anti-gay political habits than Lady Gaga, apparently.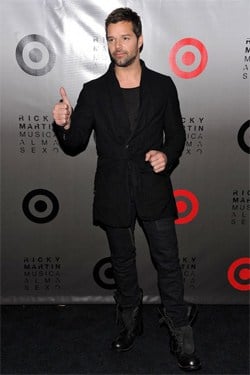 Both have deals with Target (Martin's started on January 21 in conjunction with his album Música + Alma + Sexo, and Hudson's begins today), and both reportedly performed last week at a corporate event for Target managers in Minneapolis.
Martin also performed (somehow I missed this) at a Target event in NYC on February 2.
The Star Tribune makes note of it:
Guess who did not perform at the Target managers meeting at Target Center Tuesday? Lady Gaga. Not that anyone expected her after her falling out with Target over the company's donations to political action committees that she didn't approve of. She had a deal with Target to carry an exclusive version of her upcoming "Born This Way" album but she pulled out.
Other stars who do have deals with Target did perform for several thousand store managers on Tuesday.
Our spies report that Ricky Martin and Jennifer Hudson have rocked the day-long meeting thus far.
Matt Rettenmund at Boy Culture, asks:
"Okay, so everyone who was so upset with Lady Gaga, do you grant Hudson a pass because she has not presented herself as a gay role model, in which case your gripes about Gaga are completely narrow and only about whether or not Gaga deserves praise as opposed to pushing LGBT rights forward, or do you criticize Hudson with the same vehemence previously unleashed on Gaga?"
And what do folks think about Ricky's association with the brand?
At what point should musicians who present themselves as LGBT role models (and accept awards from GLAAD) turn their back on corporations that give to anti-LGBT causes, but whose support undoubtedly contributes to their bottom line? And what about celebrities who aren't seen as LGBT activists but have large gay fan bases?
Previously…
Statement: Target Surprised and Disappointed Lady Gaga Nixed Deal [tr]
Lady Gaga Dissolves Deal with Target [tr]