An immigration judge in Manhattan made an historic ruling this morning, according to Lavi Soloway at Stop the Deportations: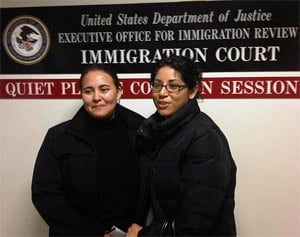 "This morning, Monica Alcota and Cristina Ojeda, became the first married, same-sex, binational couple to successfully argue that deportation proceedings should be adjourned until their marriage-based immigration case had been fully adjudicated. The Immigrations and Customs Enforcement attorney and the Immigration Judge agreed that the couple should be given an opportunity to fight for a green card on the basis of their marriage and generously adjourned proceedings accordingly.
 During their brief appearance in court, the discussion centered on an acknowledgement that the couple may have a long road a head of them, but that they should be allowed to pursue their case with U.S. Immigration and Customs Services, the administrative agency that processes marriage-based petitions.  Monica and Cristina will report back to the Judge in December to notify the court and the government attorney of the status of their case.  This is a tremendous victory for The DOMA Project and we hope it will signal a shift in how similar cases will be handled in Immigration Courts across the country."
Gay City News interviews the couple:
For Alcota and Ojeda, the legal developments of the last eight months –– in Boston, Washington, and now Manhattan –– represent some respite from what has been "hanging over our heads," Ojeda explained –– "that I would lose her."
That's exactly what happened to Ojeda –– for three months at least –– in 2009. As the couple traveled through upstate New York by bus to bring Ojeda's belongings from Buffalo, where she had just finished up a master's degree in social work, to Queens, where the two women now live, a spot border control check resulted in Alcota being detained by immigration officials. She ended up in a privately-run detention center in Elizabeth, New Jersey, from which she could have been deported at any time.
Finally, an Immigration Judge — a woman, the couple noted — saw Alcota and determined she had "a reasonable fear" of persecution should she be returned to Argentina. She had fled her home country, where she lived in a region near the Chilean border, with her then-partner because the two believed their lives were at risk.