Earlier I posted that the United States today would call on the United Nations human rights branch to take direct action to combat discrimination against LGBT people around the world.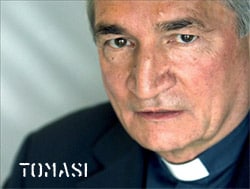 Well, the Vatican decided to do pretty much the exact opposite. A Vatican diplomat told the UN Human Rights council that critics of gay people, such as the Catholic Church, are really the ones under attack.
Archbishop Silvano Tomasi said the Roman Catholic Church deeply believed that human sexuality was a gift reserved for married heterosexual couples. But those who express these views are faced with "a disturbing trend," he said.
"People are being attacked for taking positions that do not support sexual behaviour between people of the same sex," he told the current session of the Human Rights Council.
"When they express their moral beliefs or beliefs about human nature … they are stigmatised, and worse — they are vilified, and prosecuted.
"These attacks are violations of fundamental human rights and cannot be justified under any circumstances," Tomasi said.
Aside from the sheer absurdity of Tomasi's claim, the Catholic Church is hardly in the position to portray itself as victim given the thousands of pedophile clergy sexual abuse cases that continue to surface around the world.