Media Matters has uncovered audio of Fox Washington managing editor Bill Sammon telling passengers aboard a chartered right-wing cruise that he willfully spread the Obama "socialism" meme during the 2008 campaign: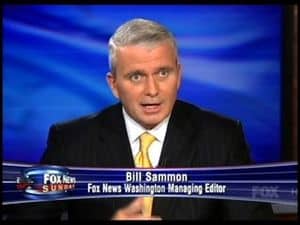 Speaking in 2009 onboard a pricey Mediterranean cruise sponsored by a right-wing college, Fox Washington managing editor Bill Sammon described his attempts the previous year to link Obama to "socialism" as "mischievous speculation." Sammon, who is also a Fox News vice president, acknowledged that "privately" he had believed that the socialism allegation was "rather far-fetched."
"Last year, candidate Barack Obama stood on a sidewalk in Toledo, Ohio, and first let it slip to Joe the Plumber that he wanted to quote, 'spread the wealth around,' " said Sammon. "At that time, I have to admit, that I went on TV on Fox News and publicly engaged in what I guess was some rather mischievous speculation about whether Barack Obama really advocated socialism, a premise that privately I found rather far-fetched."
Indeed, in the weeks leading up to the 2008 election, Sammon used his Fox position to engage in a campaign to tie Obama to "Marxists" and "socialism."
Listen to the audio, AFTER THE JUMP…