A senior at George Washington University has been charged with assault with significant bodily injury as a hate crime for attacking another student he perceived to be gay, student paper The Hatchet reports: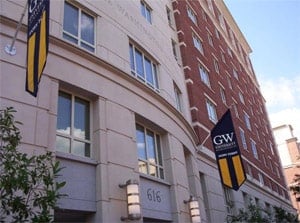 Metropolitan Police Department officers arrested senior Ross Richardson early Sunday morning in Ivory Tower, after he kicked and punched a fellow senior while saying "you fucking fag," according to court documents.
The victim was transported to GW Hospital with significant head trauma, including bleeding in his brain.
The incident is classified as a hate crime, or a crime directed at an individual based upon prejudice or bias, according to the documents. The victim – whose name is being withheld due to a Hatchet policy of not naming assault victims – said he never met Richardson prior to the assault.
"I'm extremely surprised that at such a progressive school such a hate crime would happen," he told The Hatchet. "I'm even more surprised that it would happen to a straight, white male."
The victim doesn't remember what happened, but thankfully there were witnesses:
One witness saw Richardson kick the victim in the stomach several times while the victim was on the ground, according to the documents. Another witness saw Richardson push the victim against a wall while punching him and calling him "fag" and "motherfucker" multiple times.
The victim fell to the ground and Richardson punched him and walked away, but returned and kicked him again, according to the documents.