Ari Ezra Waldman is a 2002 graduate of Harvard College and a 2005 graduate of Harvard Law School. After practicing in New York for five years and clerking at a federal appellate court in Washington, D.C., Ari is now on the faculty at California Western School of Law in San Diego, California. His research focuses on gay rights and the First Amendment. Ari will be writing weekly posts on law and various LGBT issues. 
Follow Ari on Twitter at @ariezrawaldman.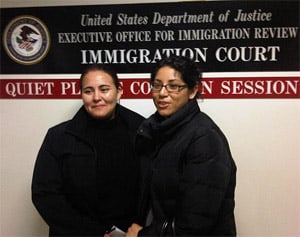 One subset of the gay community — legally married bi-national same-sex couples — must be feeling particularly whiplashed of late. One day, they are set to be ripped apart or forced into exile in Canada. Then, they get a reprieve from the U.S. Citizenship and Immigration Services (USCIS) when representatives from the Washington, D.C. and Baltimore districts announce that they will hold in abeyance all deportation proceedings involving gay foreign nationals legally married to gay American citizens. The organization Immigration Equality then tells us that they have been told that this abeyance is meant to hold until there is a final judicial or legislative decision on the Defense of Marriage Act (DOMA). Just as suddenly, the USCIS announces that the abeyance, which applies nationally, is over, as the agency received clarification and instruction from the Attorney General's office on the implications of President Obama's view that DOMA is unconstitutional and will not be defended in court. As the USCIS reported today, it is "back to adjudicating cases as [it] always" has. What does that mean?
There are lessons here, not the least of which is that we should take what certain activists say with a healthy dose of salt. Determining how we got here and where to go next are the real stories.
Holding these deportation proceedings in abeyance for even a moment is a victory. It keeps loving, committed and legally married couples together rather than tearing them apart. But, it also highlights the devious implications of DOMA, which will undoubtedly factor into the case-by-case analyses of immigration judges from here on out. This victory is the direct result of President Obama's decision to support gay and lesbian equality and stop defending DOMA in court. And, it puts the onus on immigration lawyers to come up with creative strategies and on immigration judges to use their discretion on a case-by-case basis. In a world where DOMA still exists, that, of course, is how it should be.
CONTINUED, AFTER THE JUMP…
When President Obama stated that DOMA is unconstitutional and refused to defend the law in court, he made it clear that despite his opposition to the law, it would still be enforced. "The President has an obligation to defend duly enacted laws," a Department of Justice (DOJ) attorney who prefers to remain anonymous said. "But, what that actually means isn't so clear. Does it mean that it has to be enforced in the same way when it comes to every affected person? I don't think so, but that's up to Attorney General Holder."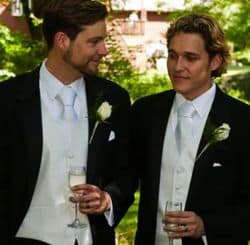 My friend at the DOJ is correct, of course. And, it is not only up to Mr. Holder. Immigration judges, the men and women who are part of the Executive Branch that decide deportation, asylum and a plethora of other immigration-related cases, are given exceedingly wide latitude and discretion in their cases. They can weigh various factors differently and, given ongoing changes in the law, they can decide that certain factors are to be weighed more heavily in any given case.
DOMA affects legally married gay bi-national couples by, in part, preventing the foreign national spouse from being granted an alien relative visa, i.e., being allowed to stay in the country because of a marriage to a U.S. citizen. Because DOMA denies federal recognition to same-sex marriages and an alien relative visa is a benefit attendant to federal marriage recognition, these foreign nationals could never be granted a visa.
It sounds like all alien relative petitions of legally married gay bi-national couples are all the same. If they are, then it stands to reason that in a DOMA-controlled world, they should all be denied out of hand. That really isn't the point. With DOMA on the books, these foreign nationals cannot be granted visas, but it does not mean they all have to be deported tomorrow. Each married foreign national has the right to file his petitions, offer evidence and have a hearing before USCIS officials and immigration judges.
So, USCIS's abeyance policy was meant to allow for some clarity to the President's interpretation of DOMA, but it says nothing about an immigration judge's discretion to decide a particular case. An abeyance policy that prevents all immigration judges from denying all alien relative petitions of legally married bi-national couples — whether by policy of the USCIS or by executive order from the President — would have been a pro-gay equality result, but it would be an affront to an immigration judge's discretion. It would also be an end run around DOMA because an abeyance policy until repeal or final judicial decision would be little more than promising to enforce DOMA with your fingers crossed behind your back. An executive order would be worse, as it would be the President shoving a seemingly all-powerful unitary executive down the throats of Congress.
Though these bi-national couples are in danger of being torn apart by the discrimination enshrined by DOMA, perhaps it is better that we allow each immigration judge to use what he or she knows about DOMA and about a given couple to adjudicate the case before him. This policy weeds out fraud — a delicate subject we don't like to talk about but certainly exists in the gay world — and allows the Administration to fulfil its duties to enforce duly enacted laws. Our job is to tell these couples' stories, to highlight the tragedy of DOMA and to use the power of legal advocacy to keep these men and women together as long as possible.