Mike Rogers closes Blogactive, the site he used to out closed politicians. UPDATE: Mike tells us he is still on the case, which is good news, just evolving into something 2.0.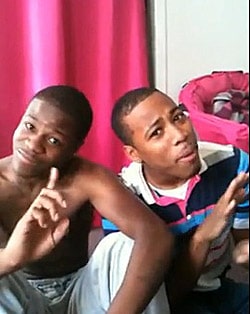 Freaky Boiz duo causing stir on YouTube: "Pierre 'PrinceCharming' Phipps and Terrence 'TTgotit' Wilson—Chicago, Illinois natives and college students at Southern Illinois University—have started a firestorm of controversy on YouTube because of their risque renditions of popular rap songs. Their forte? Transforming charted hip-hop ditties into racy gay-loving tales of explicit sex-ploitation."

Prince Harry takes an icy plunge.

Glee "Born This Way" episode to run 90 minutes.

Trump produces official birth certificate: "It shows that 'Donald John Trump' was born June 14, 1946 in Jamaica Hospital in Queens. It lists his father as Fred C. Trump and his mother as Mary Mac Leod. The date of the report is listed as June 14, 1946." Document raises lots of new questions.

Officials: Hole in US Airways jet caused by bullet.

Listen to Jennifer Lopez's next single: "I'm Into You".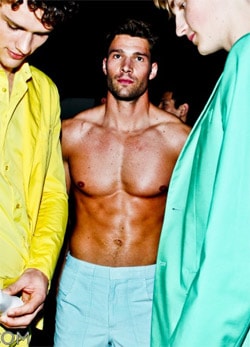 Backstage with photographer Kevin Tachman at Jeffrey Fashion Cares in NYC. More here. And here.

Wall Street firms to hold LGBT summit: "On Wednesday, March 30, six of Wall Street's major banks–Bank of America Merrill Lynch, Barclays, Citi, Goldman Sachs, Deutsche Bank and Morgan Stanley–will join together at Out on the Street, a summit convened to discuss issues vital to the lesbian, gay bisexual and transgender (LGBT) community. Deutsche Bank is hosting the inaugural summit, which will focus on issues of culture change, recruitment, client development and driving business impact during four panel discussions."

Minneapolis cops and firefighters can continue to work out at anti-gay gym, says City Council committee.

Enrique Iglesias' ego can't handle opening for Britney Spears.

A new exhibit on Jean-Paul Gaultier, which opens at the Musée des Beaux-Arts de Montréal on June 17, will feature a bust of the designer that will speak via film projections on its face.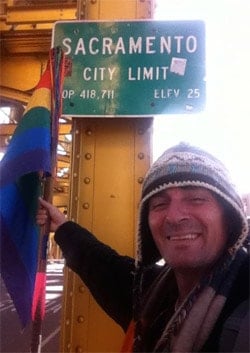 Activist Richard Noble walks for equality.

Panama diplomat resigns after cross-dressing controversy: "Panama's government on Tuesday accepted the resignation of a diplomat who caused a stir by wearing a lace dress with a banana in his bustline for carnival in Spain. Italo Afu, Panama's consul in the Spanish Canary Islands, had apologised profusely, saying he did not want 'to harm anyone, much less my country.'"

George Clooney on witness list for Berlusconi prostitution trial.

Audio: anti-gay group fear-mongering over gender identity bill in Connecticut.

Adam Lambert celebrates boyfriend Sauli Koskinen's birthday.

NYC disrespects fallen 9/11 cop: "The city was so hellbent on proving that an NYPD cop didn't die of a 9/11-related illness that morgue workers were dispatched to a funeral home to take away the body while his grieving family was holding memorial services, The Post has learned. 'Ten minutes before the wake, the Medical Examiner called us and said they need to reclaim the body,' said Howard Wong, 40, whose brother, George, died after a two-year battle with gastric cancer Thursday at age 48. 'The Health Department had issues with the wording on the cause of death — that he died from exposure to 9/11 toxins — and they ordered the Medical Examiner's Office to do it over,' Wong said."