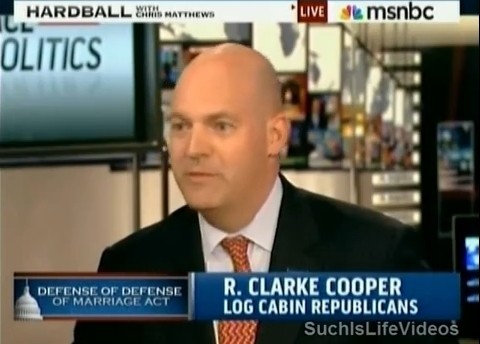 Chris Matthews hosted Log Cabin Republican executive director R. Clarke Cooper and analyst Howard Fineman on Friday to discuss House Speaker John Boehner's pledge to defend DOMA in Congress.
Matthews was understandably confused by Cooper's stance — the Log Cabin leader wants to see DOMA repealed, thinks Boehner's on the right track, yet hesitated to say Obama's in the wrong — and declares, "This is the problem with the Log Cabin Republicans: you're half Republican and half gay liberation guys. Which one is it?"
Everyone ends up agreeing that both sides of the aisle, including Boehner, would rather focus on the economy than on DOMA, which is described as a political "hot potato."
It's a steaming hot pile of something, that's for sure.
Watch the fireworks, AFTER THE JUMP…