A Wisconsin judge has blocked the recently-passed law restricting collective bargaining rights in Wisconsin, the AP reports: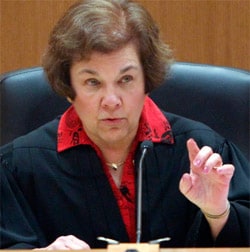 The judge's order is a major setback for Walker and puts the future of the law in question.
Dane County Judge Maryann Sumi issued the order, which was requested by that county's District Attorney Ismael Ozanne, a Democrat. Ozanne filed a lawsuit contending that a legislative committee that broke a stalemate that had kept the law in limbo for weeks met without the 24-hour notice required by Wisconsin's open meetings law.
The Milwaukee Journal Sentinel adds:
Sumi's order will prevent Secretary of State Doug La Follette from publishing the law – and allowing it to take effect – until she can rule on the merits of the case. Dane County District Attorney Ismael Ozanne, a Democrat, is seeking to block the law because he says a legislative committee violated the state's open meetings law in passing the measure, which Walker signed on Friday.
Sumi, who was appointed to the bench by former GOP Gov. Tommy G. Thompson, said Ozanne was likely to succeed on the merits.
"It seems to me the public policy behind effective enforcement of the open meeting law is so strong that it does outweigh the interest, at least at this time, which may exist in favor of sustaining the validity of the (law)," she said.