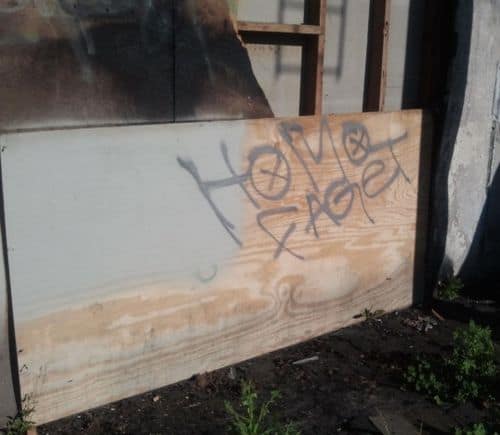 Bigoted vandals targeted a gay bar in Fresno, California earlier this week, spray-painting "homo" and "faget" on the walls and mirrors of the establishment. The Phoenix is currently under construction and slated to open in June. Bryan Beckstrand, who owns the bar along with his partner Karl Jensen, wrote about the incident on the bar's blog:
"My inclination is to just shrug it off and paint over it.  But then I wonder if the fact it's a gay bar (or will be) elevates this to something more than just vandalism.  Should I contact the police?  Will the police care?  Will the grafitti abatement team care a little more than the cops? All that being said, what happened yesterday, while not pleasant, could have been much, much worse, trust me. (Again, that'll be explained later.  I'm sorry for being so cagey but I think you'll agree my reasons for being cagey now will be apparent later)."
Police came to the bar to investigate after being contacted by ABC 30 and despite the fact that a gay bar was vandalized with anti-gay slurs, they do not believe this to be a hate crime.
The Phoenix is taking over the space of The Den, the gay leather bar that burned down last year. According to ABC 30, "fire investigators would not say arson was to blame — but Jensen believes otherwise."
Watch an ABC 30 news report, AFTER THE JUMP.