UPDATED: Austin PD presser, AFTER THE JUMP…
An Austin, Texas man upset that his daughter was in a lesbian relationship has been arrested for the murder of his daughter's girlfriend and the girlfriend's mother, the Austin Statesman reports: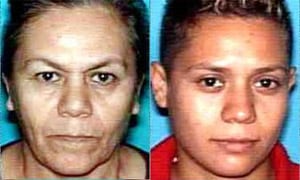 Jose Alfonso Aviles, 45 , went to the house in the 7100 block of Dixie Drive where Norma Hurtado, 24, lived with her mother and shot both women after knocking on the door, officials said Tuesday. He has been charged with capital murder and could receive life in prison or the death penalty if convicted.
Police said they are looking for a second unidentified man who witnesses said fled the scene with Aviles in a green sport utility vehicle.
Aviles' daughter, who was in the home at the time, found Norma Hurtado and her mother, 57-year-old Maria Hurtado , after they were shot, according to police and court documents.
The daughter's "family was quite upset over this relationship," Austin police Lt. Gena Curtis said Tuesday. "This had been an ongoing dispute between these families and it turned tragic, into a horrific act of violence with the death of two individuals."
The daughter told police that she and Norma Hurtado had been involved in a lesbian relationship, which her father did not approve of, and that there had been disturbances between Aviles and Norma Hurtado, according to an arrest affidavit.
Authorities have not determined whether the murder will be classified a hate crime.
I've posted the press conference from the Austin Police Department, AFTER THE JUMP…