A vigil and rally organized by Trans-United, TransMaryland, Baltimore County for Equality, the Gay, Lesbian, Bisexual and Transgender Community Center of Baltimore is planned at 7 pm this evening at the McDonald's where Chrissy Lee Polis was brutally beaten late last week.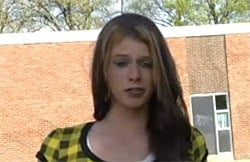 Said Caroline Temmerand of the Gay, Lesbian, Bisexual and Transgender Community Center of Baltimore and Central Maryland in a statement: "This is precisely the kind of hatred and bigotry that transgender women and men deal with on a daily basis. We as a society have failed if we cannot do more to protect all Marylanders from this kind of brutality."
Added TransMaryland spokeswoman Jenna Fischetti: "Our primary concern is for Ms. Polis' well being. We will support her through this difficult time and we ask that the legal process be unhampered and thorough."
Polis spoke out about the attack in a video interview with the Baltimore Sun over the weekend.
The vigil and rally will be held at McDonald's, 6315 Kenwood Ave. in Rosedale, Baltimore.
Meanwhile, the 18- and 14-year-old women involved in the attack have been charged:
Teonna Monae Brown of the 2000 block of Kelbourne Road in Rosedale was charged in the attack on Chrissy Lee Polis. The incident was videotaped and went viral online late last week, with hundreds of thousands of views on various websites. The video shows Polis, 22, being kicked and punched in the head by two people until she appears to have a seizure. While one employee and a patron try to intervene, others can be seen standing and watching, and some are laughing.
Brown, who was arrested Friday, has been charged with one count of first-degree assault and two counts of second-degree assault. She remains at the Baltimore County Detention Center on $150,000 bond.
A 14-year-old girl has also been charged in the attack, but her name has not been released because the charges were filed in juvenile court.