Former NJ Governor Jim "I am a gay American" McGreevey has had his initial bid for the priesthood rejected by church leaders, the NY Post reports: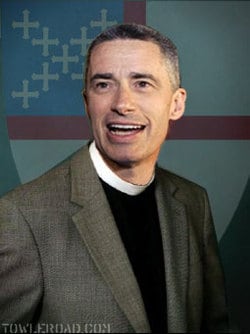 Church leaders, who have long embraced gay parishioners and clergy, were bothered by McGreevey's bitter divorce, sources told The Post.
"It was not being gay but for being a jackass — [McGreevey] didn't come out of the whole divorce looking good," said a source with the Episcopal Diocese of Newark.
Some leaders also were wary of McGreevey's sudden embrace of their faith after his scandal and feared the church was being used, the source added.
After resigning as governor, "he was sort of looking for every angle to make a complete redo of his professional life," said another church source. "He ran to the church for some kind of cover, which isn't fully appropriate. Even if he's a good guy, he should wait five to 10 years to get over his issues."
McGreevey was apparently told that he needs to go back to the books and study harder or do more charitable work.
It was first reported that McGreevey was looking into the priesthood in May 2007.
*Note: image is Photoshop illustration.