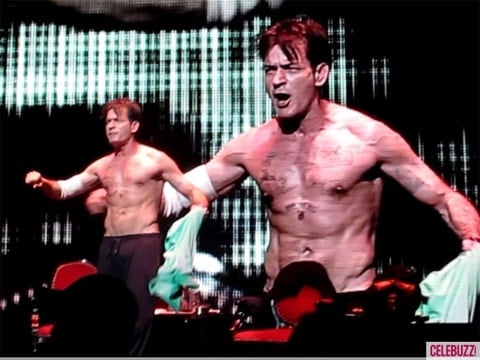 Celebuzz documents Charlie Sheen's 'Torpedo of Truth' show in Chicago on Sunday, which was apparently far more successful than one on Saturday in Detroit( which saw mass walk-outs and refund demands), and featured at least one shirt exchange.
Us reports: "After Saturday's Detroit disaster, Sheen and his team revamped the format of the show — ditching the rapper, rambling monologues and bizarre video clips that so irked his fans. Instead, the Chicago show employed an MC who reined in Sheen, and peppered him with questions about his headline-generating antics."
"It was a loud and raucous show throughout, with fans screaming questions, compliments and insults, including 'You suck!' and 'Shut it!' At one point, a large, hairy man in the audience took off his lime green polo shirt and tossed it onstage. A wiry Sheen, who threw a tour T-shirt back – his chest is ripped, and tattooed – sported the XXL-sized gift shirt the rest of the night, though it was too big and, he complained, way too hot."