A new campaign on public transit in Dublin Ireland advocates for full civil marriage. Irish media expects the quote "Jesus Had 2 Dads and Turned Out Fine" to cause some controversy: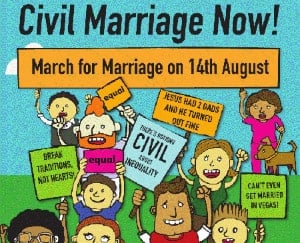 The gay rights group Noise, a group campaigning for marriage equality for same-sex couples, is launching the new poster campaign on Dublin city public transport this Monday.
The posters highlight the difference between Civil Partnership and Civil Marriage, pointing out that Civil Partnership, which was recently legaized in Ireland  is not equality. The group also unveiled its new-look website to coincide with the launch.
Noise organiser Max Krzyzanowski says the posters are a specific  reminder to the public and the government that gay people still don't have the same rights as straight people.
Ireland's civil partnerships went into effect on April 5.