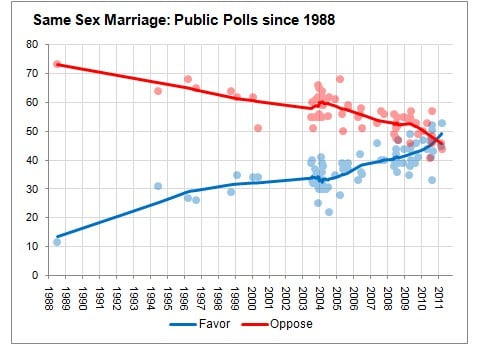 I last posted Nate Silver's coincidentally phallic graph of public opinion on marriage back in August 2010. He notes, in a NYT blog posted yesterday, that the trend in favor of marriage equality has continued upward.
The trendline — derived through regression smoothing — estimates that about 50 percent of Americans now support gay marriage and that 46 percent are opposed, with a small percentage of voters undecided. By contrast, at this time two years ago, the numbers were 42 percent in favor and 53 percent opposed, according to the same technique.
The change — about a 4 percentage-point shift in favor of gay marriage in each of the last two years — is about double the longer-term rate of progress for supporters of gay marriage, which has been between 1 and 2 percentage points per year.