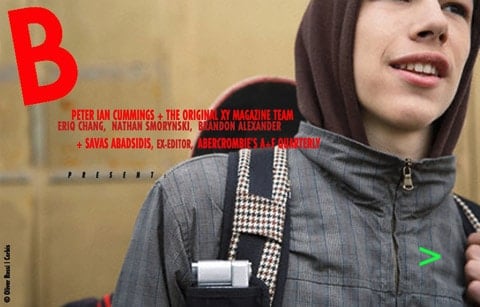 Peter Ian Cummings and Savas Abadsidis, the former editors of XY and the Abercrombie & Fitch Quarterly, respectively, have teamed up to launch two new publications for young gay men that will be in sale in bookstores next month, they tell us:
*** B MAGAZINE *** is the "gay magazine of the future." In addition to sexy photos and interesting articles, we are also covering futuristic design. We are also launching a second magazine, All American Guys, all photos, which is a joint project with the allamericanguys model agency in Florida.
Say the publishers in a press release: "XY and the A&F Quarterly were known for their inspiring and daring photography, and Cummings and Abadsidis said they will continue that trend by photographing people across the country, especially in mid-America, as they both did before; and interviewing numerous celebrities — as well as photographing 'inspiring and cool gay people across America.'"
They also have a funky website to accompany B Magazine.