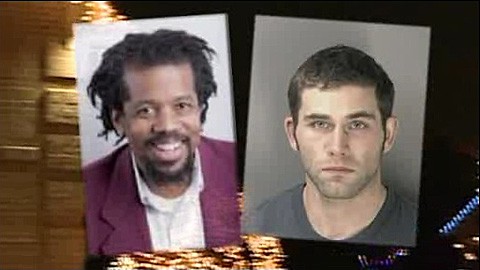 Back in December 2009, posted about gay Indiana University professor and author Don Belton (left), who was stabbed to death in his home by Michael Griffin, a decorated Marine who claims Belton sexually assaulted and raped him in front of his girlfriend while they were intoxicated. Belton was stabbed by Griffin two days later when the Marine went to confront the professor.
Griffin's trial began earlier this week and the jury returned a verdict yesterday:
A Monroe County Circuit Court jury late Thursday found Michael Griffin guilty of murder, deciding that he intended to kill Don Belton when he stabbed him 22 times in December 2009.
The verdict came after about 12 hours of deliberations. The 26-year-old faces 45 to 65 years in prison when sentenced.
Griffin testified Wednesday that he didn't remember stabbing the 53-year-old Belton. Jurors could have convicted him of the lesser voluntary manslaughter if they found the killing was committed in the heat of anger.