A gay man was assaulted in London while getting money from a cash machine opposite gay nightclub Kaz, the Evening Standard reports: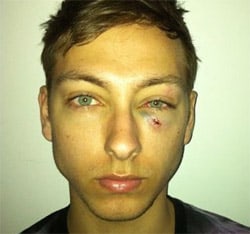 [20-year-old Chas Anderon, a] former male model was knocked to the ground as friends of his attacker stopped his partner, fashion stylist Mike Adler, from coming to his aid. Mr Adler, who is from Australia, said: "The only reason the man started on him was to say the shorts he was wearing were ridiculous.
"He was standing up for himself and I was standing up for him. The man just switched from yelling backwards and forward to becoming violent."
Mr Adler, 30, said the group started abusing Mr Andersen opposite the gay KAZ Bar in the early hours of Sunday. He pursued the attacker but the man grabbed his phone and he was forced to beg for it back before returning to tend to his partner of three years
Anderson has suffered from blurred vision since the attack but will reportedly recover.