Christopher Barron, Chairman of the gay conservative group GOProud, hops on Donald Trump's birther train.
Barron tells Politico's Ben Smith: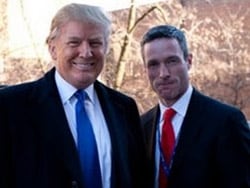 "Organizationally it's not a GOProud issue. Not related to any of the organization's legislative priorities… It's not an issue that particularly resonates with me, but it clearly resonates with a large segment of the Republican primary. I think Mr. Trump's position on this has been a pretty common-sense one, and honestly, I can't understand why President Obama wouldn't have released his birth certificate before now to put an end to this once and for all."
You may recall that GOProud invited Trump to speak to their group at the recent CPAC conference.
UPDATE: Barron clarifies that it's his, and not GOProud's position. "As for my personal position, let me be 100% clear – I am not a birther…I do believe that Mr. Trump's approach to this issue, like his approach to almost every issue he has spoken on, has been a 'common sense' approach. If there are those who question President Obama's birthplace, then why not just produce the birth certificate (not the certificate of live birth – there is a difference) and be done with it? To me, that sounds pretty common sense."