Gay GOP Presidential candidate Fred Karger has won a straw poll of potential presidential candidates at St. Anselm College taken on Thursday night, WMUR reports: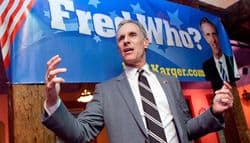 "Karger, who was the only potential candidate to address the group, has made college campuses a central part of his budding campaign so far. Karger received 79 votes out of 322 ballots cast for 16 candidates. Finishing a close second with 74 votes was former Massachusetts Gov. Mitt Romney. From there the drop off to third place was significant. New York businessman Donald Trump received 26 votes. In the end, this was a big win for Karger who has been campaigning hard in the Granite State trying to make the argument that he should be taken seriously as a candidate. This straw poll should help that."
Full results at WMUR.