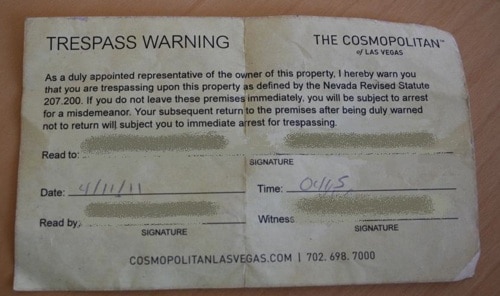 A transgender woman was reportedly "banned for life" from the Cosmopolitan Hotel in Las Vegas after going there for a drink and using the women's bathroom. 
Here's what happened. Stephanie goes to the Cosmo in the early hours of the morning – about 2.30am. She sits down at the Vesper Bar, in the lobby of the hotel, and orders drinks. Her drinks are good, the barman is pleasant, all is well. And then, at 4am, she realizes she needs the bathroom.
She goes, as is her wont, to the women's restroom, just across from the bar. It's empty, as you'd expect at 4am on a Monday. Not a single person in there. She powders her nose and exits the restroom, only to be met by two security guards who immediately say "Come with us" and start marching her out of the hotel. As they walk her, they demand to see her ID (to establish her legal gender). It's in her purse, and she fumbles for it as she's being forcibly marched through the lobby of the hotel. As she fumbles, one of the men tells her to hurry up. She is scared, and starts apologizing, saying she's not trying to cause trouble, but it's hard to walk and look for her ID at the same time.
They march her outside the hotel (the bathroom is near the main entrance) and she finds her ID. One of the guards checks it, establishes that her legal gender is male, and pulls out a yellow form from his pocket and starts writing in her details to the blank spaces. As he does so, he says, "Are you working?" Way to add insult to injury. She doesn't say "Well as it happens, yes I am working, at the conference, douchebag." She says no.
There's much more on the incident at HotelChatter…