This morning I posted Attorney General Eric Holder's reaction to the departure of King & Spalding attorney Paul Clement and his former firm's dropping of the defense of DOMA. Clement subsequently joined Bancroft PLLC and will continue defending the case.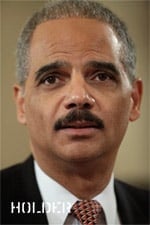 Said Holder in response:
"Paul Clement is a great lawyer and has done a lot of really great things for this nation. In taking on the representation–representing Congress in connection with DOMA, I think he is doing that which lawyers do when we're at our best," Holder said during a roundtable with reporters at the Justice Department. "That criticism, I think, was very misplaced."
The White House stands with Holder on the issue, the Washington Blade reports:
"We do share Eric Holder's views on this," Carney said. "We think — as we said from the beginning when we talked about — when I did from this podium — about the decision no longer from the administration to defend the Defense of Marriage Act, that we would support efforts by Congress if they so chose to defend it. And so I have nothing to add to the attorney general's comments."
Background on King & Spalding's involvement
Attorney General Eric Holder Defends DOMA-Defender Paul Clement [tr]
HRC Confirms it Pressured King & Spalding's Clients on DOMA Issue [tr]
Paul Clement Resigns from King & Spalding [tr]
King & Spalding Firm Backing Out of DOMA Case [tr]
Protests Planned for DOMA-Defending Law Firm [tr]
King & Spalding Firm to Face Backlash Over Defending DOMA [tr]
DOMA Firm's Gag Order Revealed [tr]
DOMA Defense to Cost American Taxpayers $500K, Maybe More [tr]
House Files Motion to Intervene in DOMA Lawsuit [tr]
Former Bush Solicitor General Paul Clement to Lead DOMA Defense [tr]
DOMA-Defending Attorney Paul Clement's Firm is Proud of its Pro-LGBT Policies [tr]