UPDATED
New York's Intrepid Air and Space Museum in Manhattan will get a Space Shuttle, but not one of the retired three that various institutions around the country have been competing for, City Room reports: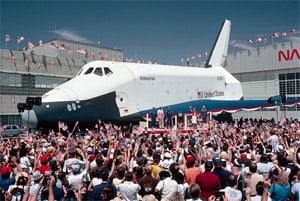 The Intrepid Sea, Air & Space Museum is getting the fourth shuttle, the Enterprise, according to a person who had been briefed on the decision.
The Enterprise was the consolation prize in the contest to obtain one of the three orbiters that the National Aeronautics and Space Administration plans to give away after wrapping up the Space Shuttle program. One of those three, the Discovery, has been promised to the Smithsonian's National Air and Space Museum. It would be displayed at the Steven F. Udvar-Hazy Center, near Washington Dulles International Airport.
The Enterprise, which was the first shuttle built though it never flew into space, is currently on display there.
NASA's administrator, Maj. Gen. Charles F. Bolden Jr., is scheduled to announce where the retired shuttles are going during a news conference in Florida on Tuesday afternoon.
The Enterprise shuttle will be housed in a newly-constructed building next to the aircraft carrier on Pier 86.
UPDATE: "NASA's space shuttles, which have been carrying astronauts aloft for 30 years, were assigned to their final destinations on Tuesday: one will head to the nation's capitol, another to Los Angeles, and the third from its current home at the Kennedy Space Center in Florida to the center's visitor complex down the road."