Massachusetts Governor Deval Patrick has nominated Barbara Lenk, an openly gay associate justice of the state Appeals Court, to a seat on the state's Supreme Judicial Court, the Boston Globe reports: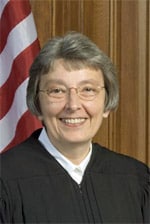 If confirmed by the Governor's Council, Lenk would be the first openly gay judge on the state's highest court, which issued the landmark 2003 ruling that made Massachusetts the first state in the nation to legalize same-sex marriage in 2004.
The nomination of Lenk comes after the governor named Roderick Ireland to be the first African-American chief justice of the SJC, and Fernande R.V. Duffly to be the first Asian-American judge on the state's high court. Patrick has spoken of his desire to make the judiciary and other branches of government more reflective of the state's diversity.
A specialist in civil litigation and First Amendment issues, Lenk holds a doctorate in political philosophy from Yale University and a law degree from Harvard Law School.
Lenk would fill the seat vacated by Justice Judith A. Cowin, who is stepping down in April
Recently…
Pro-Equality Justice Roderick Ireland Set to Become Chief of MA Supreme Court [tr]