New York magazine reports that Bachmann spent some time at the recent TIME 100 party stalking the cast of Glee to get photos: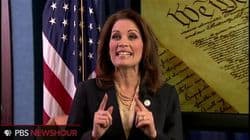 At the event last night, at Jazz at Lincoln Center, Bachmann and her husband posed with Glee star Darren Criss and e-mailed the pictures to their children. "We looked for Chris Colfer," she said, but they didn't find him. "We don't watch TV, generally speaking. But the kids were thrilled. What kids don't watch Glee?" Well, maybe the children of potential presidential candidates who think God sent them to stop gay people from having equal rights? Maybe Bachmann doesn't know that the main message of the popular teen hit is tolerance, respect, and equal treatment — particularly for gay people. She doesn't watch TV, after all.
It's not the first time Chris Colfer has been stalked by a bully.