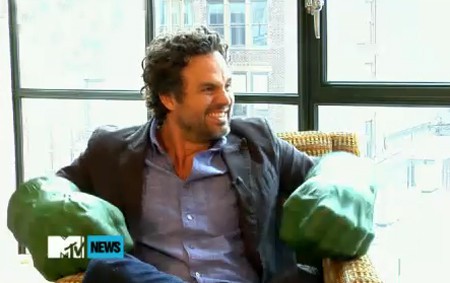 Mark Ruffalo is THE HULK. But not until 2012.


NATHANIEL ROGERS
…would live in the movie theater but for the poor internet reception. He blogs daily at the Film Experience. Follow him on Twitter @nathanielr.
 
MAY MOVIE PREVIEW
It's the calm before the (summer) storm this weekend with most studios opting to let Tyler Perry's drag act, and Robert & Reese's circus romance (my review) battle it out again for a second weekend. So let's look ahead to May. Here's nine guys to crush on for the first month of Summer Movie Season. Perhaps this will wash out that horrible Pettyfer aftertaste.
MARK RUFFALO and ORLANDO BLOOM
For those who like their men scruffy and green (in both senses of the word) or scruffy and formerly elfen.
Ruffalo is not onscreen much this summer but he is filming The Avengers even as you read this. He's playing the Hulk. They just started filming so he'll be in the news as set reports come in. They've already released one incredibly coy promotional photo.
In addition to Hulking out away from our prying eyes, the Ruffster costars in his own directorial debut SYMPATHY FOR DELICIOUS which features Orlando Bloom (left, ditching the clean cut pretty boy look for the rock n' roll dishevelled) and two incomparable actresses, Juliette Lewis and Laura Linney. It opens tomorrow. Ruffalo wanted to become a director so badly he threatened to quit acting to do it. Then that mean and green franchise offer came in and he was an actor again. I was just thinking about the last hulk, Edward Norton, this morning. (He was Ryan Gosling before Ryan Gosling wasn't he? The new acting god everyone wanted to be… for a brief few years at least.)
JOHNNY DEPP and/or THOMAS MCDONNELL
For those who like Johnny Depp or have a thing for twins or brothers.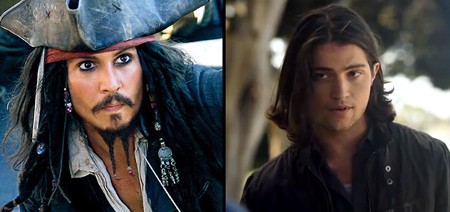 The resemblance is uncanny. You can bet that Hollywood has noticed already. They're always grooming replacements. Even for the once-in-a-lifetime stars like Johnny…
MORE AFTER THE JUMP…
Thomas McDonnell stars in Disney's PROM which opens tomorrow and he's already been cast in two Depp-related projects: he'll play the young version of Depp's character in Tim Burton's vampire flick DARK SHADOWS. Depp himself will have a cameo in the 21 Jump Street movie so I guess they won't need McDonnell for that one.
Speaking of Depp, What is going on with Annie Liebovitz. And celebrity portraiture in general? Here's a new image she did of Johnny Depp as Captain Jack Sparrow as PIRATES OF THE CARIBBEAN: JOHNNY'S GOLDEN NEST EGG approaches. The new film, sure to have a super complicated plot with plenty of stopovers at "action setpiece" land involves the fountain of youth and scary mermaids and Penélope Cruz.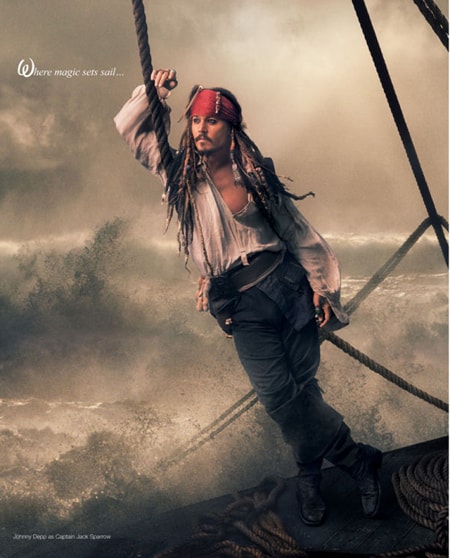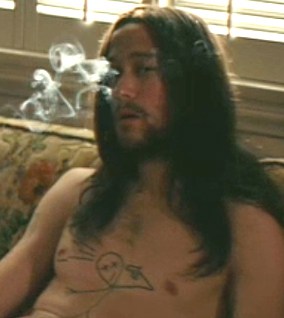 Her photographs are looking less and less like photos and more and more like heavily photoshopped computer montages from a variety of photo shoots these days. Disappointing.
JOSEPH GORDON LEVITT
For those who like their men sinewy, stoned, flaming…
As in: he likes to start fires, this HESHER. Gordon Levitt, James Franco's only true rival in MultiMedia Hipster Superstardom, plays a young man who likes arson, pornography and causing trouble. He befriends a sad young boy named "TJ". Natalie Portman co-stars.
CHRIS HEMSWORTH
For those into muscle worship or roid rage.
We'll talk about him next week when THOR opens.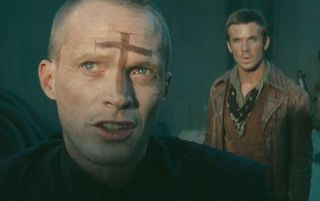 PAUL BETTANY or CAM GIGANDET
Paul for those who like their men unnerving, balding and holier than thou.
Cam for those who like famous amos cookies.
Mr. Jennifer Connelly was once a prestigious character actor of sorts (remember how great he was in Master and Commander?) but now he mostly does B flicks like PRIEST where he's a holy man and vampire slayer or what was that one last year where he was a holy angel and demon slayer? It's a weird niche but someone's gotta fill it. Bettany is so underrated as a sex symbol. He even underrates himself with self-deprecating soundbytes. On striking awesome poses while killing vampires he says:
"In reality, when you're flying through the air and meeting a pillow halfway through the air that you're stabbing, it's hard. I'm also British clearly so I'm starting from a butch deficit."
Meanwhile Cam Gigandet, who continues to have a bizarre career pre and post Burlesque, does sidekick duty.
BRAD PITT
For everyone.
Brad has long since earned his place in film history. Will playing the stern father whose influence haunts his sons as they age in Terrence Malick's THE TREE OF LIFE be a new peak reward. The trailer is the most visually ravishing two minutes online. Brad's movie son grows up to be Sean Penn which is weird to think about but Malick's movies (The New World, The Thin Red Line, etcetera) are so intoxicating and heady it'll probably end up working.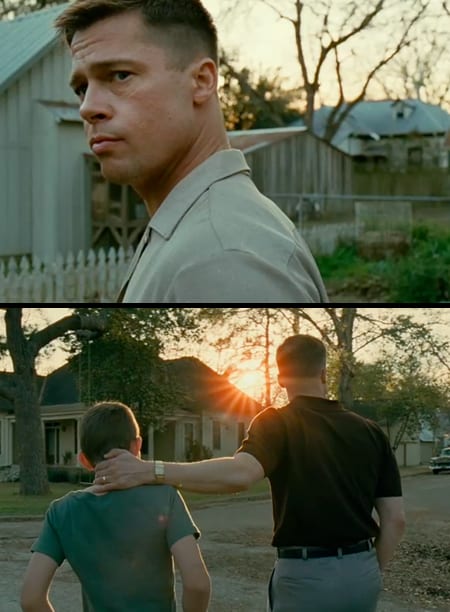 Which men do you look forward to spending time with this summer?