The American independent notes: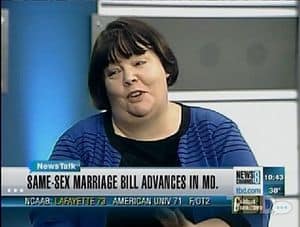 The U.S. House Subcommittee on the Constitution is scheduled to hold a hearing Friday titled "Defending Marriage," called by subcommittee chairman Trent Franks (R-Ariz.), who has recently called for the impeachment of President Barack Obama because of his decision to order his administration to no longer defend the constitutionality of the Defense of Marriage Act (DOMA).
People For the American Way Senior Fellow Peter Montgomery predicts Franks' hearing will be a parade of "extremists."
A witness list (not clear if it's full or partial) was just released, a day before the hearing, and NOM Chairman Maggie Gallagher is at the top of it.
Also listed to testify are Professor Carlos Ball, Professor of Law, Rutgers School of Law, and Mr. Edward Whelan, President, Ethics and Public Policy Center.
The hearing is scheduled for 10 am tomorrow.