Zimbabwe President Robert Mugabe attacked Western countries that have imposed an asset freeze and travel ban on him by suggesting he doesn't care and condemning their acceptance of homosexuality.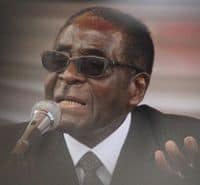 Said Mugabe:
"We don't worry ourselves about the goings-on in Europe. About the unnatural things happening there, where they turn man-to-man and woman-to-woman. We say, well, it's their country. If they want to call their country British Gaydom, it's up to them. That's not our culture. We condemn that filth. We get alarmed when these countries have the audacity to schedule us as an item to discuss in their parliament."
LAst July, Mugabe vowed to not include rights for gays in a new draft of the country's constitution. He also took the time to once again compare gays to pigs and dogs.