The Empire State Pride Agenda, the Human Rights Campaign, Freedom to Marry and Marriage Equality New York — will form a single organization called New Yorkers United for Marriage which will shortly undertake a coordinated effort to sway three Democrats and 12 Republicans who voted against marriage equality last year in an effort to pass it by early summer, the NYT reports: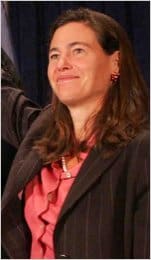 Under the supervision of the governor's staff, the groups intend to raise more than $1 million for a media blitz, hire a powerful political consultant close to the Cuomo administration and deploy field organizers to the districts of more than a dozen key lawmakers to drum up support, according to interviews with those involved in the effort.
In contrast to their failed drive for a marriage bill two years ago, the advocates envision a short, disciplined and intense run-up to a vote in the State Legislature, raising the prospect that gay couples may be allowed to wed in New York by early summer.
Their overriding aim: avoid the mistakes and miscommunications of 2009, when those lobbying for same-sex marriage sent conflicting messages, misjudged the opposition and won far fewer votes than they had predicted. After passing in the Assembly, the bill was defeated in the Senate, 38 to 24.
The coalition and plan will be unveiled today, according to the paper: "The coalition is hiring Jennifer Cunningham (pictured), a veteran labor and media strategist who is close to the governor and has advised his campaigns. Ms. Cunningham and her firm, SKD Knickerbocker, will oversee the coalition's media campaign and political strategy."