The NYPD has sent out a warning about "teams of thugs" preying on gay men in NYC's West Village, the NY Post reports: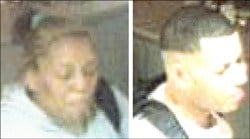 Between April 11 and 27 at least five men were mugged in five separate incidents in the area around Seventh Avenue South and Christopher Street typically in the early hours of the morning.
Many of the victims, who were all alone when attacked, hail from New Jersey.
They were coming from bars including Kettle of Fish, Ty's Bar and Hangar Bar, according to police sources.
The Post describes four separate incidents, as well as this one:
The oddest incident occurred April 27 when a 26-year-old Manhattan resident said he blacked out while partying at Hangar Bar. He told cops he came to in a Caravas Pizza when a 200-pound woman told he was robbed, but she could help reclaim his bag.
He was then directed to a downward staircase at 78-80 Christopher Street and told his bag was at the bottom. But, when he climbed down he was attacked from behind by an unknown male who took off with his iPhone.
"The crew of scumbags may be as large as five, or there may even be several crews. So far, though, the cops have released only these two mugshots of suspects; one's a woman, the other's a man. Tipsters can call Crime Stoppers at 1-800-577-TIPS (8477) or submit tips at nypdcrimestoppers.com or text info to 274637 (CRIMES), entering TIP577."