The UK's Guardian interviews Rachel Maddow about her unique place in American news: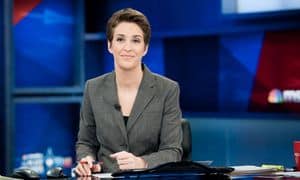 "Maddow is one of the very few gay news anchors in America – well, one of the very few openly gay news anchors. Does she feel frustration towards an equally well-known news presenter who is widely assumed to be gay but has never come out? For the first time, Maddow pauses: 'I'm sure other people in the business have considered reasons why they're doing what they're doing, but I do think that if you're gay you have a responsibility to come out,' she says carefully."
UPDATE
In response to her quote being picked up widely, Maddow makes a statement about the Guardian interview, giver her basic beliefs about the ethics of coming out,  and denies she was talking about anyone specifically.
Media-about-media today notwithstanding, I did not in my interview with The Guardian say anything about or to Mr. Cooper, nor would I. Although criticism of Mr. Cooper was intimated by The Guardian and picked up everywhere — I did not make that criticism in the interview, nor did I imply it, nor is it what I believe.