Tim Hetherington, the Oscar-nominated co-director (with Sebastian Junger) of the film Restrepo, has been killed while covering the Libyan conflict. Three photojournalists working alongside him were injured, two of them seriously, the Guardian reports: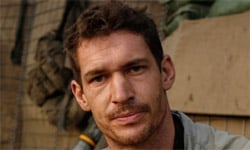 Hetherington, 40, the British photographer and co-creator of Oscar-winning documentary Restrepo, was killed in Misrata on Wednesday. Hetherington is believed to be the first western journalist killed covering the Libyan conflict.
Chris Hondros, 41, a US Pulitzer prize-winner who works for Getty Images, and British photographer Guy Martin, who works for the Panos agency, were critically injured in the same incident, according to a New York Times report. The fourth photographer injured was reported by the New York Times to be Michael Christopher Brown, although his condition was not said to be life threatening.
Hetherington's last tweet: "In besieged Libyan city of Misrata. Indiscriminate shelling by Qaddafi forces. No sign of NATO."
UPDATE: Sadly, Hondros has died.
Hetherington's final work:
Diary (2010) from Tim Hetherington on Vimeo.
"'Diary' is a highly personal and experimental film that expresses the subjective experience of my work, and was made as an attempt to locate myself after ten years of reporting. It's a kaleidoscope of images that link our western reality to the seemingly distant worlds we see in the media."