Rhode Island lawmakers are reportedly considering the separate-but-not-equal option of civil unions over marriage equality, the AP reports: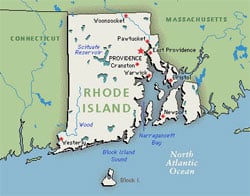 A House committee will review legislation Tuesday that would allow civil unions between any two individuals who cannot legally marry. Partners in a civil union would enjoy many of the rights of married couples when it comes to insurance, health care decisions, inheritance and property ownership.
Civil unions would be restricted to anyone older than 18 who cannot legally marry their partner. That includes same-sex couples and relatives, such as elderly, unmarried siblings who wish to secure legal rights to make medical decisions for each other.
Vermont Governor Peter Shumlin visited the state last week to encourage lawmakers not to take a "half-step", and to pass marriage equality.