Ian Millhiser at Think Progress notes: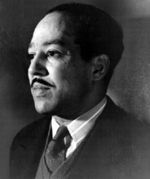 Earlier today, former Sen. Rick Santorum (R-PA) announced that he will begin fundraising for a presidential run using the campaign slogan "Fighting to make America America again." This eloquent turn of phrase, however, was not invented by Santorum. It is borrowed from the title of a pro-union, pro-racial justice, and pro-immigrant poem written by Harlem Renaissance poet Langston Hughes — "Let America Be America Again" … While Hughes is best known for his poetic cries for racial and economic justice, he was also a staunch defender of gay rights. His poem "Cafe: 3 a.m." criticizes a police raid on a gay establishment, attacking the injustice of arresting gay people because "God, Nature, or somebody made them that way." Santorum, by contrast, is best known for spouting a frothy mixture of anti-gay rhetoric comparing same-sex couples with people who have sex with dogs."
Nice use of 'frothy'.
Santorum defended his 2003 "man on dog" remarks on Glenn Beck's radio show yesterday.